MAYAN CALENDAR CONVERSION CODEX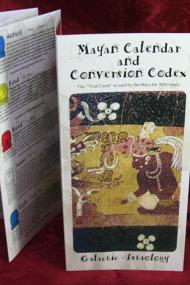 MAYAN CALENDAR CONVERSION CODEX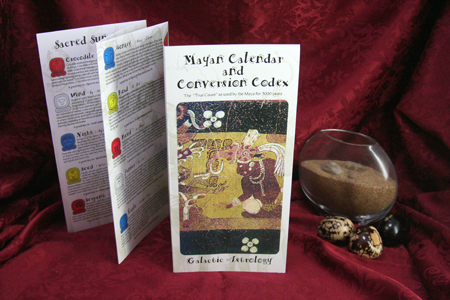 The Mayan Calendar / Conversion Codex is a tool created by the late Ian Xel Lungold. Its purpose is to convert Gregorian dates to the Mayan Tzolkin calendar. The Codex includes conversion charts that go to 2026, definitions of the 20 Maya day signs and 13 numbers (called by some authors "tones") and an Oracle of Directions. A beautiful 11 x 27 inch" presentation of Maya art.
This may be the simplest physical Gregorian-to-Mayan date conversion tool you'll ever come across (apart from web sites and apps of course).
Included with each purchase of a Conversion Codex: a four-page letter by Ian Xel Lungold which will help you apply the wisdom of the Mayan Calendar to your daily life.
SHIPPING
Usually ships in 3 days. Please allow up to 2 weeks for overseas shipments.
* The Conversion Codex is packaged and shipped by our partner Mayan Majix.