Mayan Calendar Astrology / The Serpent and the Jaguar gift set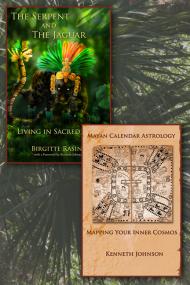 THE TWO INDISPENSABLE TOOLS FOR MAYA ASTROLOGY: THE GUIDE AND THE MAP.
25% OFF THROUGH DECEMBER 31, 2015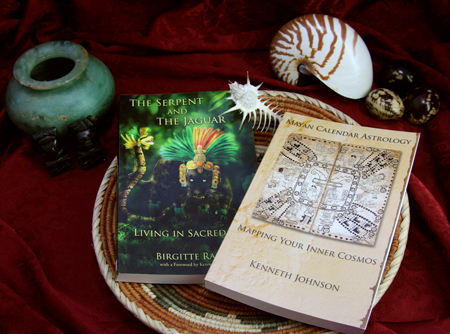 This special bundle of The Serpent and the Jaguar and Mayan Calendar Astrology makes a unique gift for your friends or loved ones—or just for you!
THE SERPENT AND THE JAGUAR
For the first time, The Serpent and the Jaguar: Living in Sacred Time brings you the 260 daily energies of the Mayan Tzolkin calendar, composed in the context of modern life and modern challenges. This book will help you redefine your relationship with sacred, cyclical time in the face of our demanding, stressful schedules that force us to operate on linear time.
Hundreds of readers around the world have been using The Serpent and the Jaguar to integrate the Tzolkin into their everyday lives.
For a full description of this book please see this page.
MAYAN CALENDAR ASTROLOGY
Mayan Calendar Astrology: Mapping Your Inner Cosmos is the quintessential handbook you need to understand the art of Mayan astrology and how to harness it for a profound illumination of your personal lifepath. The most comprehensive work written to date about the depth and range of Mayan astrology, this book gives you everything from the Mayan Cross to the Year Lords to the famed Path of the Feathered Serpent.
For a full description of this book please see this page.
This gift set is specially priced at 25% off the regular combined retail price of $37. NOW THROUGH DECEMBER 31, 2015 ONLY.
With this gift set, you're not only sending two unique books to your friend or loved one (or yourself!), you're also supporting the work of the Mayan Calendar Portal.
Most importantly of all, a portion of the proceeds will be sent to the K'iche' Maya community in Guatemala that helped with the research for both books. This way, we are all giving back to the Maya people.
SHIPPING INFORMATION:
Please allow 1–2 weeks for delivery within the US, up to 3 weeks for international shipments, depending on the location.